29th January 2023
2023 GTP post Rolex 24 report
In the debut of the IMSA WeatherTech SportsCar Championship GTP hybrid powertrain regulations, the No. 10 Konica Minolta Acura ARX-06 team fought hard to earn a second-place finish at the 2023 Rolex 24 At DAYTONA. The 1-2 finish for Acura marks Wayne Taylor Racing with Andretti Autosport's (WTRAndretti) fifth-consecutive podium and ninth top two since 2013. Despite falling three laps down in the night, WTRAndretti drivers Ricky Taylor, Filipe Albuquerque, Louis Delétraz and Brendon Hartley fought back to the front of the GTP field in the final hour, contending for the win.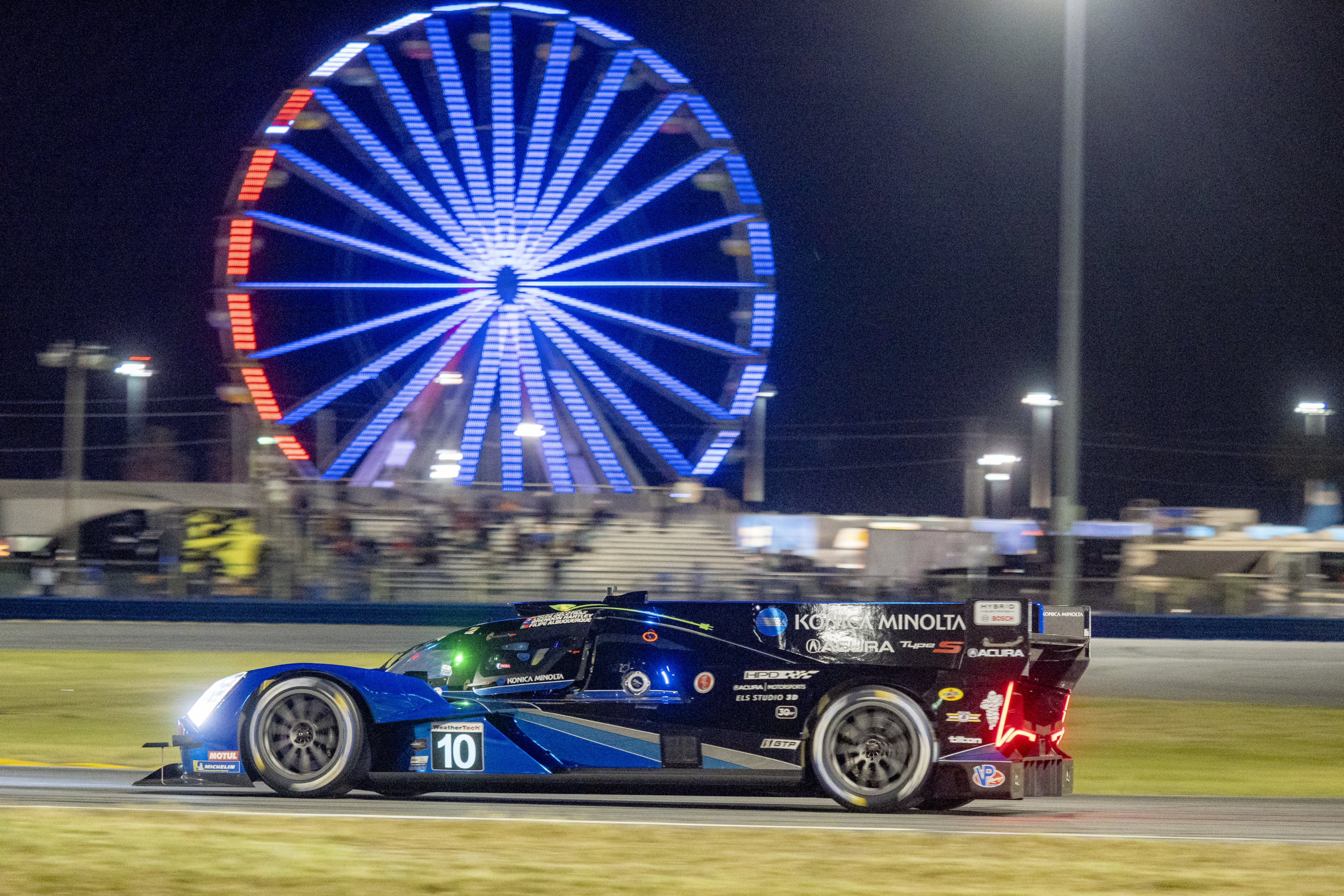 Ricky Taylor took the green flag for the 61st Running of the Rolex 24 at DAYTONA, and got a great start before passing off to Louis Deletraz. The Swiss driver quadruple stinted and passed for the lead on track in his first top-class IMSA race experience.
During a scheduled oil change through the late hours of the night, the crew encountered a mechanical issue that resulted in the blue and black entry falling three laps down. As the sun rose over Daytona International Speedway, Taylor and Deletraz piloted the No. 10 Acura to close the deficit. Albuquerque returned to the driver's seat and through some luck with cautions, the No. 10 crew was back on the lead lap with just over an hour remaining. Albuquerque made some characteristic rapid starts, making passes on-track on the way to the podium.
"I'm very proud of Acura, HPD and our partnerships with Konica Minolta and Harrison Contracting," said No. 10 Konica Minolta Acura ARX-06 team owner Wayne Taylor. "Without them this wouldn't happen. We have such a great team of people. From media, to mechanics or engineers, we have such great people and fantastic drivers. Their support is what keeps me doing this. Honestly, if it wasn't for them, I wouldn't be doing this. It's also nice being an underdog against people like Roger Penske and Chip Ganassi and beating them—it's just great!"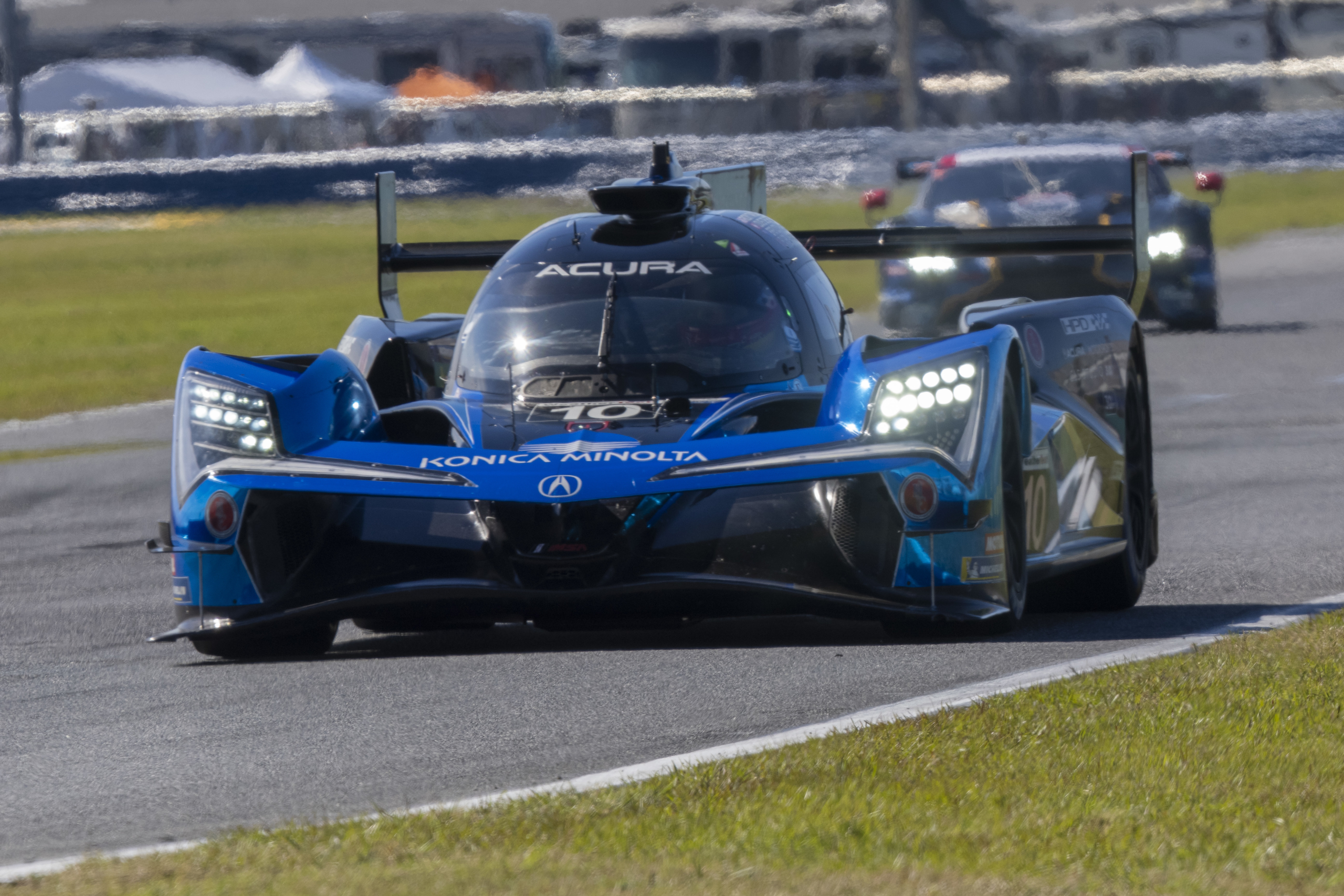 "First of all, it was an amazing job by Acura and HPD for giving us two cars to fight for the win," said two-time IMSA Champion Ricky Taylor. "I don't think it can be overstated how amazing that accomplishment is when considering the likes of Porsche and BMW and the struggles they had. Our cars ran flawlessly. To our No. 10 Konica Minolta Acura ARX-06 team, this accomplishment of consecutive top-two finishes is really unprecedented, especially considering it persists through different car manufacturers and specifications. This is our ninth top two since 2013, and I don't think any other team in the world has that type of consistency in 24-hour races. Lastly, my teammates all drove like champions. It was inspiring to watch Filipe at the end, charging through the field like that. He always gives everything and leaves nothing on the table. Unfortunately, we didn't have the pace for the win and ended up second."
"It was a great comeback from the No. 10 Konica Minolta Acura ARX-06 team," said Filipe Albuquerque. "To be three laps down to the very end and still come back. We took all the chances, all the opportunities to overtake everyone. I'm proud of the team and I gave all my best. Unfortunately, it just wasn't enough for P1. But again, we will keep learning about the car. An amazing job from Acura to do 1-2 and no issues at all on the car. Again, we should be proud."
"It was an incredible race," said Louis Deletraz. "Obviously with second, happy and disappointed at the same time because everyone wants to win Daytona. I think it's wonderful for Acura and the whole No. 10 Konica Minolta Acura ARX-06 team has been working so hard. It's a fantastic result. I'm super proud of my three teammates. We've achieved so much and it's an honor for me to share the car with them. The whole team and crew had no mistakes the whole 24 hours and that really brought us back from three laps down with a few hours to go. We were fighting for the win and Filipe gave it everything at the end. It was a very nice way to start my first race with this team and in GTP."
"It's bittersweet to finish second, but massive congratulations to everyone here at WTRAndretti and Acura," said Brendon Hartley. "I enjoyed working with Filipe, Ricky, Louis and the whole No. 10 Konica Minolta Acura ARX-06 team so much. We really did give it our all, and I'm extremely proud of the effort that went into this result. I'm only signed up for the one event, but I really hope I can join this team again in the future."
The WTRAndretti team will next head to Sebring International Raceway for the Mobil 1 Twelve Hours of Sebring on March 18th, 2023. Flag to flag coverage will begin at 10:05 a.m. ET on Peacock as well as the second half of the event broadcast on USA Network beginning at 4:30 p.m. ET.