17th October 2023
2023 GTP PETIT LE MANS POST RACE REPORT
Entering the IMSA WeatherTech SportsCar Championship finale at Michelin Raceway Road Atlanta, the No. 10 Konica Minolta Acura ARX-06 team had 10 hours to fight for the championship title. After an impressive qualifying session on Friday, WTRAndretti's Louis Delétraz piloted the blue and black machine to pole position for the MOTUL Petit Le Mans.
As Delétraz led the field to the green flag, it was about strategy and patience over course of the 10 hours for the WTRAndretti team. Battling for the lead against the No. 01 Cadillac, Delétraz made a precise move to retake the lead before coming into pit lane for a driver change to Ricky Taylor.
Taylor took the reins and was able to hold steady within the top five of the field as pit stop and driver change sequences shuffled the running order. During at caution period at the Hour 3-mark, Taylor came to pit for full service and the WTRAndretti crew jumped two positions on pit lane to settle the No. 10 Acura into second for the restart. With green flag running for the remainder of Taylor's first stint, it was time to trade the controls over to full season co-driver Filipe Albuquerque, four hours into the 10-hour event.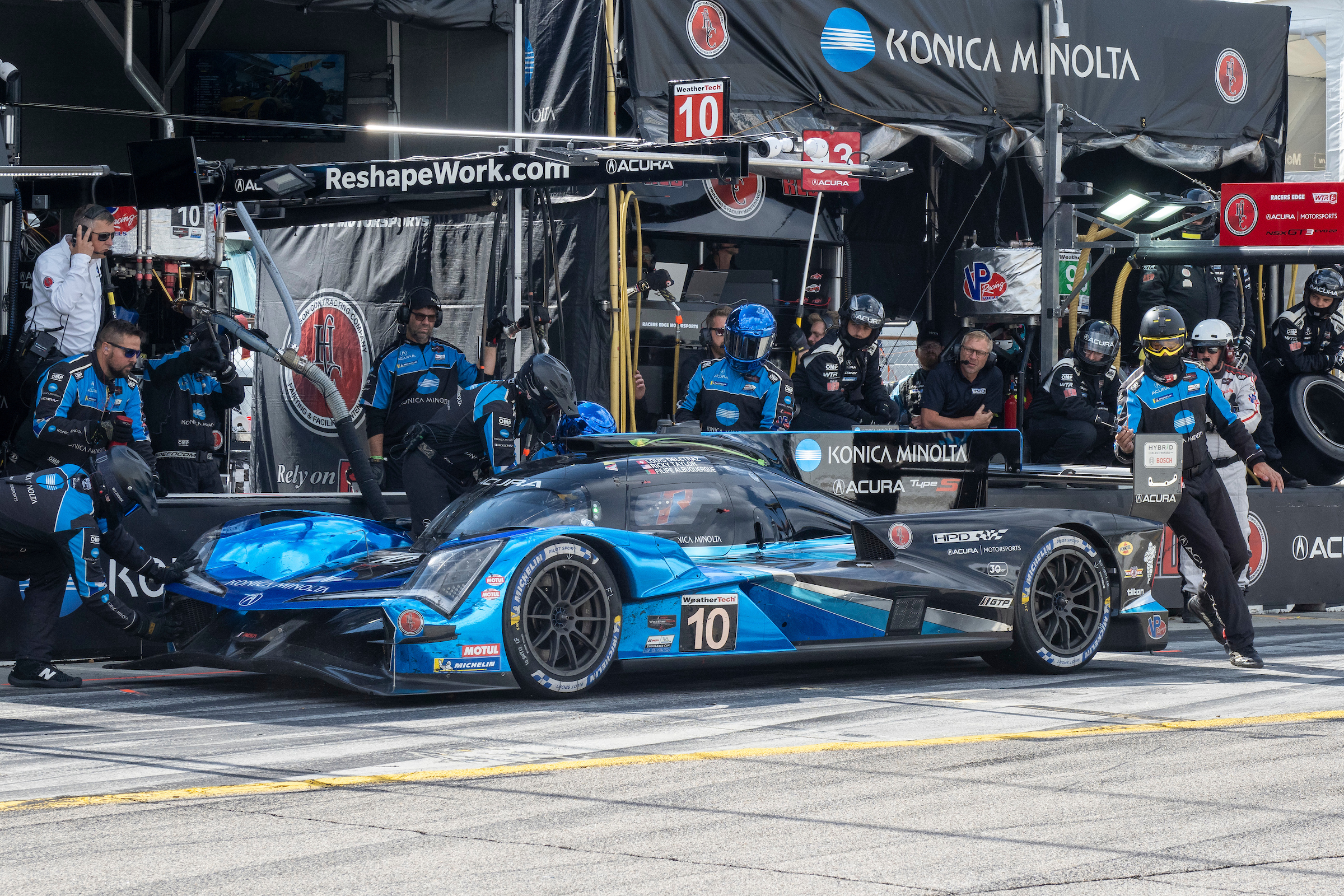 Albuquerque's stint saw a caution-filled hour as the halfway mark passed and it was a single stint for Albuquerque compared to his teammates double stints to open the race. After halfway, the WTRAndretti team completed a driver change of Albuquerque to Taylor back in the car. Closing the gap to the No. 31 Cadillac, Taylor and the GTP field came to pit lane during the caution on Hour 6. The WTRAndretti crew went to work for a full-service pit stop and driver change of Taylor back to Delétraz and the crew were able to out-perform their competitors to send Delétraz out in the lead from pit lane – a crucial position in the championship fight as the clock continued to countdown.
With two and a half hours remaining in the 2023 season, Albuquerque climbed back behind the wheel in the No. 10 Konica Minolta Acura ARX-06 and it was full focus on the championship title to the end. As other title contenders fell further back in the field, it came down to a battle against the No. 31 Cadillac and the WTRAndretti team. As lap traffic and caution periods played key roles in the final stages of the race, Albuquerque and No. 31 jockeyed for position on track. In effort to regain the championship lead with just over an hour remaining, Albuquerque went for a pass around the outside of the No. 31 in Turn 1 before contact with the championship competitor sent Albuquerque off track, making contact with the wall – ending the day for the No. 10 Konica Minolta Acura ARX-06 team who went on to finish the 2023 IMSA WeatherTech SportsCar Championship season as Vice Champions.